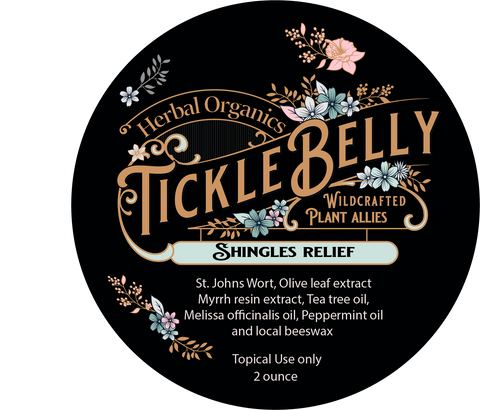 Shingles Relief Topical
There is so little on the market to help this very painful virus. After an exhaustive search for research and the lack of topical solutions, I had to formulate this salve to help. 
St. Johns Wort is the star of the show. St John's Wort is a xenobiotic or a plant derived compound composed of five various forms of hypericin and other flavonoids. St. Johns wort is a nervine. It also has an antiviral action that makes it extremely helpful in relieving the pain of shingles.  Apply as needed. 
Ingredients: Fresh Wildcrafted St. Johns Wort (Hypericum perforatum), Olive leaf extract (Olea europaea), Propolis extract, Myrrh Resin extract (Commiphora myrrha), Melissa Officinalis, Melaleuca alternifolia, Mentha x piperita essential oils. 

I also have a tincture that can help. Please message me for details. 
Available in 2, 4 or 8 ounce tin
As always check with your physician before taking an herbal supplements or using herbal products. 
---
We Also Recommend
---