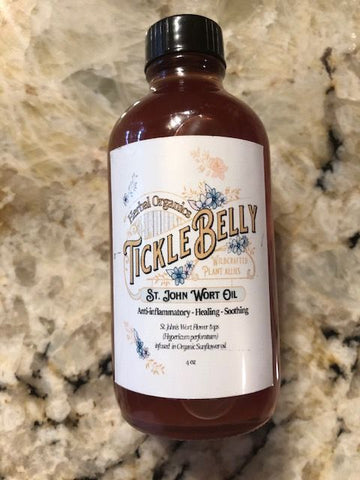 St. Johns Wort Oil
Our full-strength Wildcrafted St. John's Wort Oil (  Hypericum perforatum ) is a wonderful Ruby red oil pressed from the flowers of this beautiful plant. Great for massaging sore muscles, especially where there is stiffness, muscle or nerve pain, such as sciatica. St. John's Wort Oil has been known to promote and speed the natural healing of burns, wounds, shingles, herpes, and cold sores.  I always add this oil to my pain rub for additional pain relief.  Has commonly been used for nerve pain and shingles, sore muscles and pain. 
Please see the following literature from the NIH - https://www.nccih.nih.gov/health/st-johns-wort
Infused for a year or more in organic Sunflower oil. 
Comes in a 2 oz or 4 oz glass bottle.
---
We Also Recommend
---