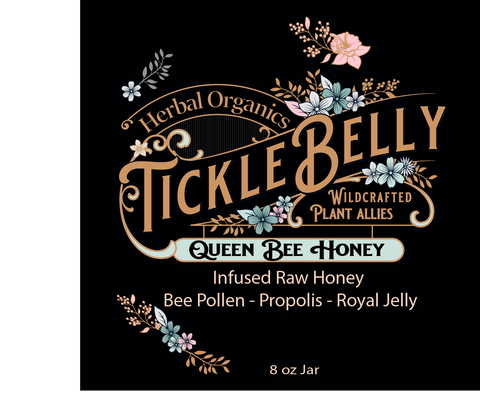 Queen Bee Raw Infused Honey
IF YOU HAVE ANY REACTION TO BEES WHATSOEVER - OBVIOUSLY DO NOT USE THIS PRODUCT. 
This raw honey has been infused with Bee Pollen, Royal Jelly and Propolis. 
Most of us are no stranger to honey. Bees make the delicious, thick, golden liquid from the sugary secretions of plants or other insects, and people serve it up as a sweet ingredient for breakfasts, beverages, and desserts. 
Fewer people realize that bees make so much more than honey.  Not only do they produce the popular sweetener, but they also make several other compounds including bee pollen, royal jelly, and propolis. Research suggests these substances may have a lot to offer in the health department.
Bee Pollen -  Bee Pollen is highly antioxidant, reduces stress, speeds healing, boosts your immune system, Contributes to liver health, eases menopausal symptoms and prementral symptoms and can reduce seasonal allergies. 
Royal Jelly - Royal jelly is a milky, gelatinous substance that's secreted by worker bees for the purpose of supporting the queen bee's development. It contains a variety of vitamins, minerals, amino acids, and antioxidant compounds. Research suggests royal jelly is anti-inflammatory, antibacterial, and antimicrobial. 
Bee Propolis - Bees make Propolis from the buds of poplar trees and other cone-bearing trees. The bees use this resin-like material to build their hives. Propolis is often harvested by people for its potential health properties. Like bee pollen and royal jelly, propolis has anti-inflammatory, antimicrobial, antifungal, and antiviral properties.  It may help in the management of diabetes ( please seek medical advice ), digestive issues, mouth sores,  adding to your toothpaste can assist with dental plaque. 
Naturally cholesterol, sodium, gluten free. Store honey at room temperature. Do not microwave or refrigerate. Bee products should not be fed to infants under one year of age. 
I am an herbalist, not a doctor. Please seek medical advice whenever using herabl supplements. 
Use 1 teaspoon daily. 
Comes in an 8 ounce glass jar.  ( 19.0 ounces by weight ) 
---
We Also Recommend
---