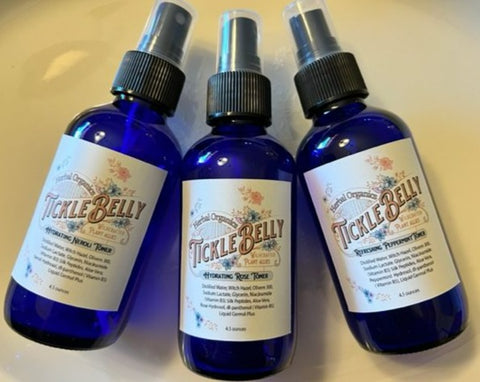 HYDRATING/REFRESHING Facial Toners
A toner's job is meant to gently refresh your skin without stripping it of its natural moisture. This means toner won't irritate sensitive skin or cause excessive dryness. Toner also prepares the skin to drink up your post-cleansing moisturizer and any other skin treatments that you may apply.
Many toners feature alcohol which will dry your skin and they use quite a bit of it. But I wanted to formulate a hydrating toner and incorporate some beautiful plant hydrosols. 
This is more of a hydration toner full of humectants and other skin loving additions to keep moisture in your skin where its need the most. Humectants draw moisture into your skin.  Witch hazel contains polyphenol, which acts as a protector from UV damage. It also helps retain the skin's natural collagen, making it great for elasticity and anti-aging.
There's a bit of a B-vitamin party going on here, with both niacinamide (vitamin b3) and panthenol ( vitamin b5). Niacinamide has become a fast favorite of mine in skin care because it is awesome. It helps reduce sebum production and acne, as well as brighten and even skin tone.  Products containing panthenol are "associated with sustained and deep skin moisturization" as well as having positive effects on barrier repair. It also protects against irritation, and has been found to help accelerate epidermal regeneration, with stronger, more elastic skin.   With the addition of silk peptides and aloe vera you are going to love these tones. 
Ingredients: Distilled water, Alcohol-free Witch hazel, Olivem 300, Sodium lactate, Glycerin, Niacinamide (vitamin b3) dl-panthenol (vitamin b5) Silk peptides, Aloe vera,  Rose Hydrosol or Neroli Hydrosol, Peppermint hydrosol or Frankincense Hydrosol, Liquid germall plus. 
Choose from Rose, Neroli, Frankincense or ultra refreshing Peppermint. 
All in a 4.4 ounce cobalt glass bottle with a fine spritzer. 
---
We Also Recommend
---