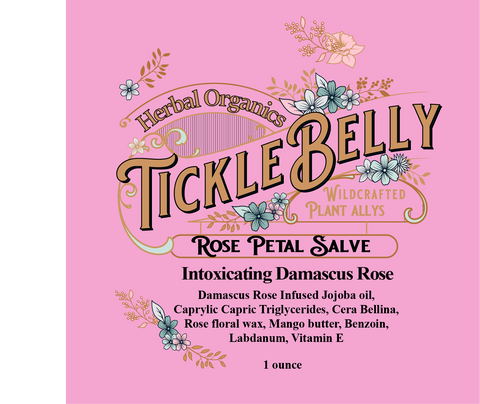 Intoxicating Damascus Rose Salve
Most Rose Salves are made with Petroleum as a base. But if you know me and my products, I would never use Petroleum as a base for anything. 
The base of this lovely scented salve is quick absorbing Jojoba oil which I infused Damascus roses for an entire moon cycle. I used a gorgeous Rose Damascus concrete ( Rose Concrete is obtained by cold extractions of fresh rose blossoms ). Cetyl alcohol and Cera Bellina gives this salve a beautiful texture whaich will absorb nicely.  
Roses have vitamins A and C to promote skin health.
Roses are high in antioxidants to promote anti aging properties.
Rose petals are hydrating for your skin. ...
Roses have anti-inflammatory properties and can reduce redness.
Roses can promote skin healing from minor cuts and scrapes.
Rosebud Salve is still a favorite to aid in the relief of chapped and dry skin, blemishes, diaper rash, and burns. Rosebud Salve is also a wonderful lip moisturizer and natural-looking lip gloss. It moisturizes dry lips, calms and heals irritation, and soothes the sting of minor burns. It is also great for your cuticles. So many uses! 
Ingredients: Organic Damascus Rose Infused Jojoba oil, Cera Bellina, Caprylic Capric Triglycerides, Cetyl Alcohol, Rose concrete, Mango Butter, Benzoin, Labdanum, Vitamin E.
Comes in a 1 ounce cobalt glass jar. 
---
We Also Recommend
---