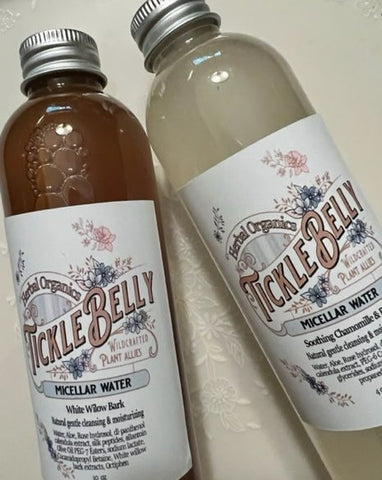 MICELLAR WATER White Willow Bark or Aloe Chamomile Soothing gentle cleansing
Micellar water is made up of micelles (tiny balls of cleansing oil molecules) suspended in soft water. ... "The idea is that micelles are attracted to dirt and oil, so they are able to draw out impurities without drying out the skin. This is by far the best way to cleanse.
Soak a cotton pad and apply to your face with a cleansing motion. Removing all dirt and impurities. No need to wash off. 
Choose from White Willow Bark (excellent for acne prone skin) or Aloe Chamomile. Both are excellent. Choose 6 or 10 ounces.  The 6 ounce is a spray and the 10 ounce has a flip top lid. 
Aloe & Chamomille Ingredients - Water, Chamomille Hydrosol, Aloe Vera, PEG-6 Caprylic/Capric Glycerides, dl-panthenol, Calendula extract, Sodium lactate, Propanediol 1,3, Liquid germall plus. 
White Willow Bark Ingredients - Water, Aloe vera, Olivem 300, Cocamidopropyl Betaine CAPB, Rose Hydrosol, White willow bark extract, Allantoin, Silk Peptides, Glycerine, Liquid germall plus
---
We Also Recommend
---