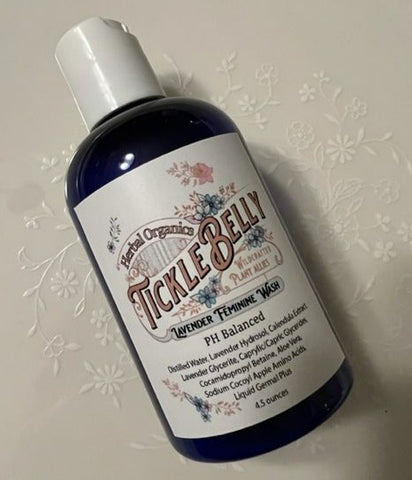 PH Balanced Feminine Wash ( SOAP FREE)
THIS PRODUCT IS SOAP FREE! The PH of regular body wash and bar soap (PH of 9-10) are much too high for a women's sensitive skin in her genital area. I created this PH balanced wash specifically for my clients that need a low PH feminine wash.  The PH of this product is 4.5 - 5.5
Here is a great article on why PH balance is so important for you. 
https://www.spruceshaveclub.com/blogs/spruceshaveclub/what-is-ph-balance-and-why-it-s-a-must-while-washing-your-private-parts
This is very concentrated - A very small amount will be enough. Place some in your hand and add water then apply. This 4.5 ounce bottle is equal to 15 ounces. 
There are no fragrance oils or essential oils in this product.  The light scent of Rose, Lavender or Neroli come from the actual flower itself. There are no alcohols, fragrances or essential oils or anything to burn or irritate. The shea butter and glycerin in this formula will be very moisturizing for sensitive or injured skin. You need a very small amount to clean and refresh.  There is also an unscented version. 
Ingredients:  Distilled water, Aloe, Rose or Lavender or Neroli flower Hydrosol, Coco Glucoside, Shea Butteramidopropyl Betaine, Glycerin, Xanthan Gum, Olive oil esters, Polyquaternium-7 ( the unscented product has zero scent ) 
4.5 ounce cobalt PET bottle BPA Free ( I do not like glass in the shower area) 
---
We Also Recommend
---