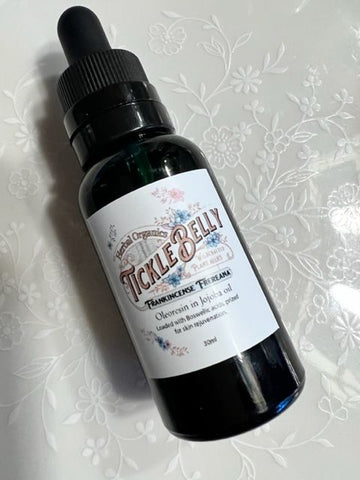 Frankincense Boswellia Frereana Serum in Jojoba
This is a lovely oil. Loaded with Boswellic acids that you can only get from Frankincense.  Boswellia frereana is one of my favorite resins. It has a warm honey-type look and smell. It has been used by the older Somali women on their faces to make themselves more youthful. Wonderful for mature skin.   This is not the essential oil. It is an oil infused from the actual resins. The scent is lovely. 
It is fast absorbing as it is infused in Jojoba oil. Jojoba oil is a great emollient, softening and smoothing. Jojoba oils also contains 96% ceramides.  Jojoba oil mimics the skin's own sebum, making it an effective natural conditioner, which is wonderful for anyone with a dry or irritated complexion.  This is a 1:1 ratio so it is strong. Requires only a few drops to apply.   See this article on Frankincense Frereana - click here 
Comes in a 30ml cobalt glass dropper bottle.
Please do your own research as to what these ingredients are. This product is not intended to diagnose, treat or cure anything. Please consult your physician before using any herbal or natural products or supplements. 
---
We Also Recommend
---